Spring 2020 Projects
Blue Ridge School Education Foundation
Educational Opportunities, Spring 2020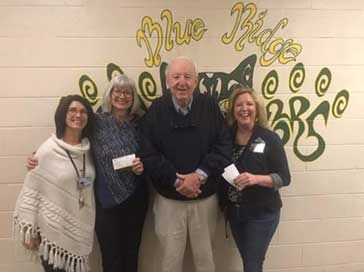 Students and Faculty will experience at least four amazing opportunities this spring. Pictured here are Teri Walawender, Principal of Blue Ridge School, Laura Plush, Tutor, Carl O. Hyde, President of the Blue Ridge School Education Foundation, and Dr. Tracie Metz, Principal of Blue Ridge Early College. The Foundation was pleased to fund a cursive writing contest, Love Yourself to Health, STEM/STEAM Night, and a positive branding initiative. Photo at right shows Carl Hyde presenting checks for each proposal.
Under the direction of Laura Plush, 4th and 5th graders have chosen to use half of their lunch times to enter a Cursive Writing Contest. Professionals agree that the continuous movement of cursive writing can decrease sequencing difficulties. In addition, by using a continuous movement, children can develop a "physical" memory of the word, and they are less likely to reverse letters. Cursive writing has been found to impact memory activation and information recall as well as many other activities of the brain. The Foundation was pleased to fund a small amount for prizes.
STEM is an acronym for the fields of science, technology, engineering and math. STEM-related programs have become a presidential priority because too few college students are pursuing degrees in these fields. Dr. Metz, Principal of Blue Ridge Early College, has creatively added art to present STEAM night. Hosted by high school science classes, the evening will provide an exploratory curriculum for students in grades PreK-8. In addition to all of the activities, highlights will include a SWAG Bag with 3 take-home grade-appropriate STEM activities for each participant as well as pizza for all.
Love Yourself to Health, coordinated by the school nurse, will focus on age-appropriate hot topics using a health fair venue with a variety of professional presenters and medical personnel. During the week there will be a blood drive, booths on basic health information, and gift card incentives for both students and parents to encourage attendance.
The Foundation was very pleased to fund a positive branding campaign for students, parents and community to promote the instructional value provided at Blue Ridge School and Blue Ridge Early College where students can complete 2 years of college at no cost concurrently with their high school educations. Funding will include banners for Pre-K and Early College Registration, new signage for the Early College, logo enhanced school supplies and clothing, and bumper stickers. When appropriate, selected items will be used as student incentives.
Helping Build the Future of the Blue Ridge...