Muddy Sneakers Program
Blue Ridge School Education Foundation
Muddy Sneakers Program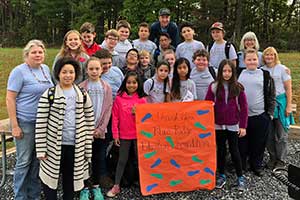 Camp Muddy Sneakers is based on a philosophy that the best way for children to develop a connection to the natural world is through meaningful and fun outdoor experiences. Our day camp encourages kids to follow their imagination and curiosity as they actively engage with the world around them. Campers get to learn about various ecosystems through experiential activities while exploring the forests and streams of Western North Carolina. All sessions are led by highly qualified Muddy Sneakers naturalists in small groups.
According to Debbie Houtzer, teacher, "The program is wonderful. The students are thoroughly engaged all day with the activities and experiments that the naturalists lead. We have completed field trips on the Human Body, Heredity and Inheritance, and Ecosystem Interactions, as well as our introductory trip to discuss rules, expectations and excitement to come."
Muddy Sneakers is a unique opportunity for kids to be immersed in the outdoors and to experience exciting adventures led by trained naturalists. With a stunning location in the Blue Ridge Mountains and a wide array of activities for all ages, Camp Muddy Sneakers promises a summer to remember!
Helping Build the Future of the Blue Ridge...