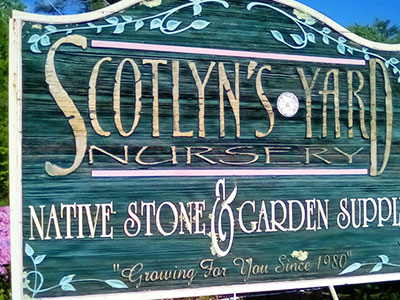 Welcome to Scotlyn's Yard!
Owned by Scott and Lynn Dillard (thus the name Scotlyn's Yard) for over 40 years, Scotlyn's Yard Nursery is a full service operation featuring every item needed for a beautiful landscape. It is a two- (almost three!) generational family operation closely associated with Scotlyn's Yard Landscaping located in Glenville, NC. The pictures and text below are indicative of the nursery's wonderful selection. If you don't initially find everything you need, we continuously place orders throughout the year. However, perennials, annuals, hanging baskets, and other flowering plants and ground covers are grown in-house, assuring you of the healthiest plants ready just in time for our late planting season. Stop by and walk through! Our family welcomes you!
Scotlyn's Yard has served our community for over 40 years providing plants, products and helpful guidance for all of your landscaping and gardening needs.
We Feature the Following: